A Blood test for Bowel Cancer Detection
The development of a blood test for the early detection of bowel cancer
Researchers at the University of Otago are developing a non-invasive blood test for bowel
cancer using Oxford Nanopore's DNA sequencing technology. The test involves the highly
sensitive detection of fragments of DNA that have leaked from a cancer into the
bloodstream ('circulating tumour DNA'). The accessibility of Nanopore technology will
enable communities and families to proactively reduce their risk of being diagnosed with
incurable bowel cancer.

Prof. Parry
Guilford
Parry is the Director of the Centre for Translational Research (Te Aho Matatū) at the University of Otago. He is a highly experienced cancer researcher who has worked on
cancer diagnostics for over 25 years.

Prof. Mik BLACK
Mik is one of New Zealand's leading computational biologists. He specialises in the analysis of complex DNA sequencing data.

Jordon LIMA (Ngati Porou)
Jordon is a PhD student working on test development. Her research objectives include understanding the barriers than Māori and rural communities experience when accessing cancer services in New Zealand.

Alice McAtamney
Alice is a PhD student who is using bioinformatic techniques to further develop the blood test. She is
determined to make sure these tests are accessible to all who may benefit from them.

MELISSA VINING
Since the terminal diagnosis and subsequent passing of her late husband Blair Vining, Melissa continues to drive the legacy they created. They campaigned tirelessly for better cancer care for all New Zealanders, and are the driving force behind the Southland Charity Hospital coming to fruition.

Julia Black
Julia's husband, Malcolm Black died from colorectal cancer in 2019. Malcolm was determined to push the boundaries with his treatment and maintained a philosophy of having 'hope without fear' throughout his illness. Julia is currently a writing her Masters in Bioethics and Health Law at the University of Otago with a focus on cancer care. She is also the lay member on the Dunedin Colorectal Cohort governance committee.
 
Prof. Chris Jackson
Chris Jackson is Professor of Oncology at the University of Otago and a medical oncologist at Dunedin Hospital. Driven to improve the care for the patients he sees in clinic every day, he is a researcher, teacher, leader in cancer policy, and passionate advocate for change.

Phil Robinson
Phil is the founder of Back9 Creative in Invercargill. Phil and Allison have worked alongside Melissa on many projects for the Southland Charity Hospital. They have generously given up their time and in most cases donated the time and tremendous skill of their in-house team including graphic design, web design, and development. 
We Have the Power to Impact Our Future, and We're Doing Something About It
Jordon is determined to help her whānau and the people from her community, in Te Tai Rawhiti, where the average life expectancy is five years less than the national NZ average.  She is part of the team designing a test that detects and measures cancer-specific DNA in the blood, called circulating tumour DNA (ctDNA). This test will allow cancers to be detected early, patients' response to treatment monitored, and the likelihood of a cancer returning after treatment predicted.
Her project has two key priorities: in the lab, she will optimise the blood tests for early detection of bowel cancer. She is also interviewing previous bowel cancer patients, their whānau, and their healthcare providers. This dual approach is to ensure that her work is driven by the needs of the people we wish to serve, to ultimately improve life expectancy and quality of life for all whānau here in Aotearoa New Zealand.
.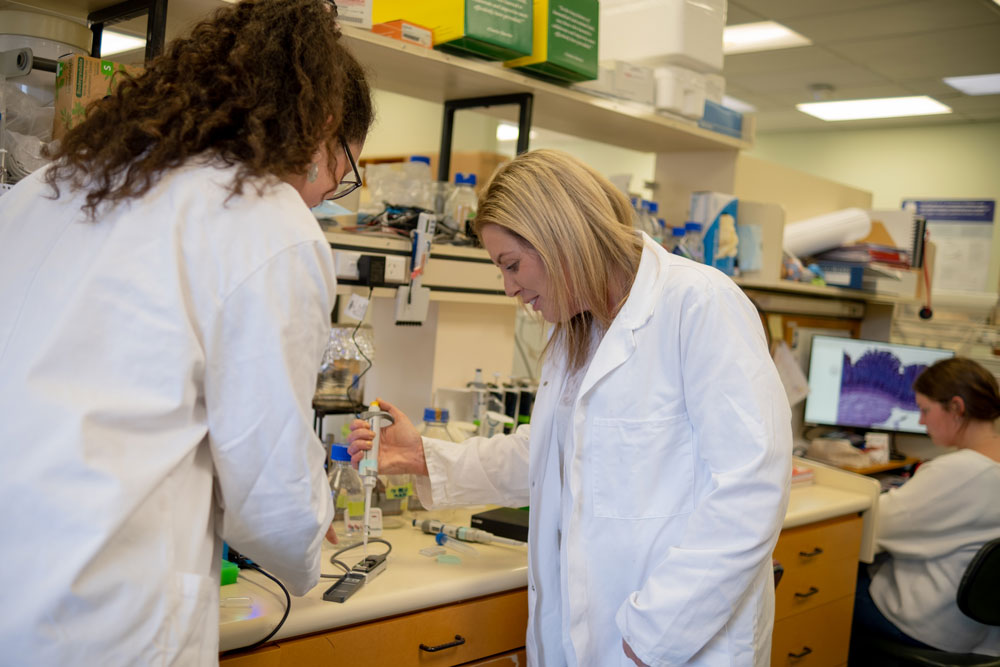 "No one should die from bowel cancer, this simple blood test will change the lives of countless New Zealanders.
This project is inspired by Malcolm Black & Blair Vining"
Please note: If you require a donation receipt, at this time you will need to donate directly to the University of Otago. Please follow the guidelines on our Donate Page

Donation